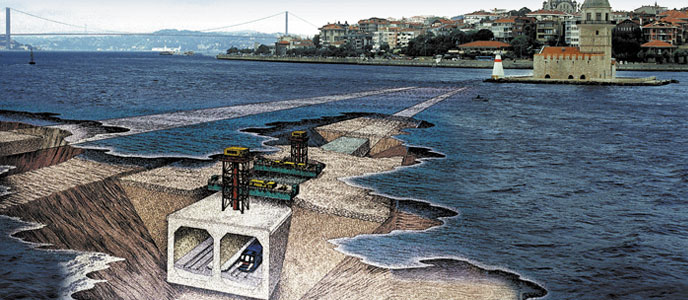 The European and Asian sides of Istanbul have been connected for the first time with a railway tunnel constructed under the Bosphorus, officially opened on Oct. 29, the 90th anniversary of the foundation of the Turkish Republic.
A Turkish-Japanese consortium has realized the project, called the Marmaray, fulfilling a 150-year-old dream.
The Marmaray will provide a non-stop railway route connecting China to Western European markets and vice versa as a modern day Silk Road.
The construction of the world?€?s deepest submerged underwater railway tunnel (62 meters at its deepest point) was supposed to be completed in 2009. But as engineers started to dig, incredible archaeological findings started to surface, which proved that Istanbul?€?s history dated back 8,500 years, instead of 6,000 as it was used to be known before the Marmaray. That delayed the project for nearly four years.
Some 40,000 objects were excavated from the site, notably a ship graveyard containing some 30 Byzantine vessels, which is the largest known medieval fleet.
With its maximum capacity of 1.5 million passengers a day, the Marmaray was expected to alleviate 20 percent of the 14 million-person city?€?s traffic burden.
Another underwater crossing construction, only for cars, was under construction, to be in service by 2015. That is the year when the construction of the third suspension bridge over the Bosphorus is also expected to be completed, to increase the total number of connections between the European and Asian sides of the city to five.
The 13.6-kilometer tunnel, including a 1.4-kilometer immersed tube tunnel, is the deepest of its kind in the world at 60 meters. It is expected to transport around one million people per day by connecting the continents in four minutes.
MARMARAY TUNNEL CONSTRUCTION ANIMATION